Recently, my wife and I finished reading aloud the amazing new Russian novel Laurus by Evgenii Vodolazkin. I loved it. First of all, it helped me focus an idea I had about one of my own main characters in my second novel—also a healer like Arseny-Laurus. I generally have a problem as a writer—I tend to go all super fantastical in my characters and events and settings. As a result, some of the earthiness of real life tends to get lost.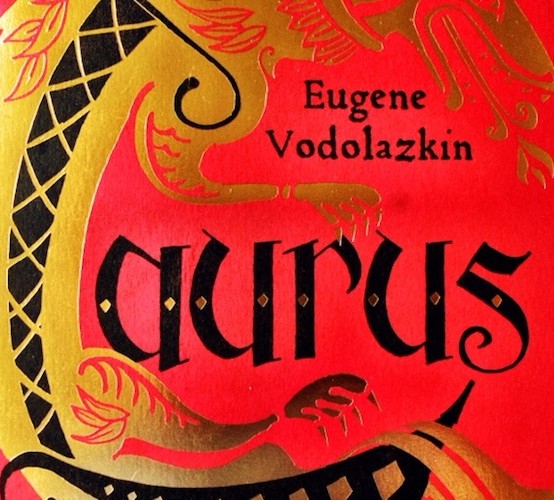 Laurus is super earthy. The healings are largely about herbs and natural remedies. One of the lengthy descriptions of the healer's work includes frequent visits by men with very…um…intimate problems. It even has pugilistic fools for Christ. It's very Russian in spirit, combining the sacred and the absurd in ways that are quintessentially Russian, but universal in scope. One interesting repeated reference in the novel is to a popular novel of the time, a fictionalized account of Alexander the Great's travels and conquests called Alexandria.
I found a short, interesting article in Russian that seemed appropriate for the day. Today, the Orthodox Church celebrates the feast of the Ascension of the Lord. But there was a different kind of ascension in Alexandria—a strange episode called the "ascension of Alexander." This event was so much a part of popular Russian culture of medieval times, that an iconic representation of it was even included as a decoration on a bishop's hat!
How Alexander of Macedon Became Popular in Medieval Russia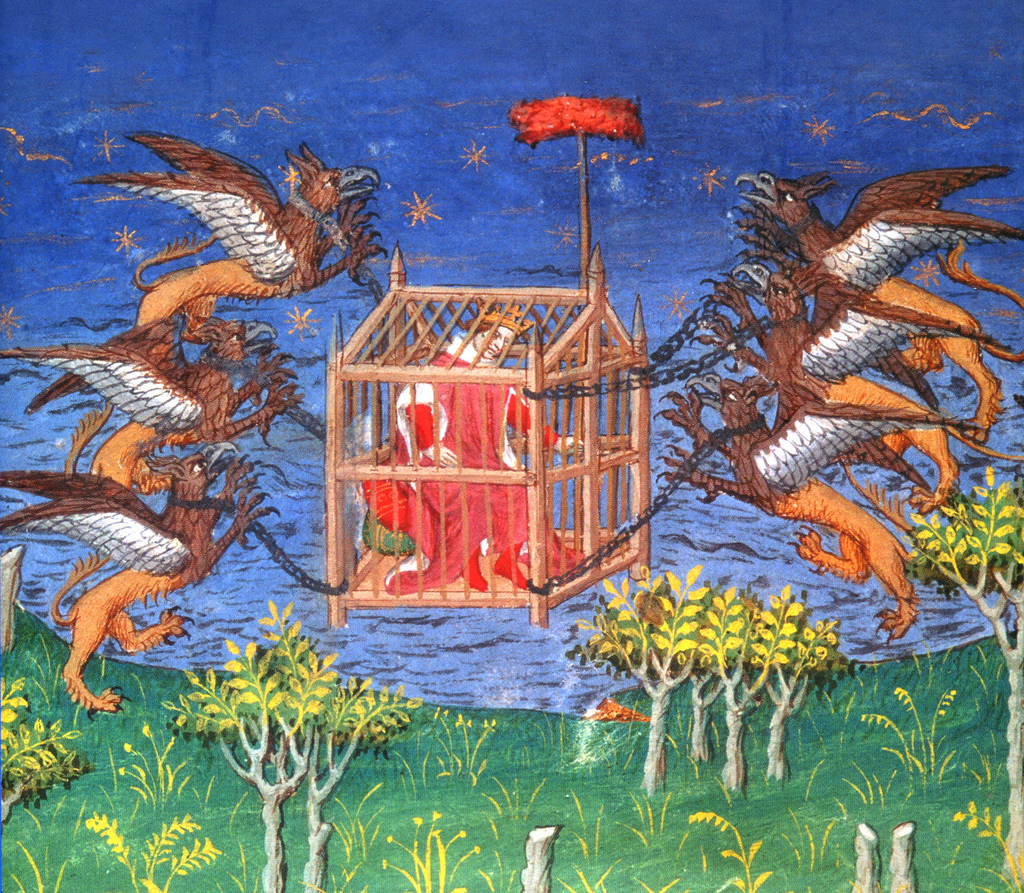 In the Middle Ages, a certain written work called Alexandria was widely popular. It was purported to be written by a certain Callisthenes of Olynthus, a historian who accompanied Alexander on his Asiatic expedition, and a nephew of Aristotle. This "history" included many mythical events praising the greatness of the godlike Alexander. One episode in particular stuck in early Russians' minds.
In a certain Eastern country, Alexander saw two huge birds. They awed him with their power and beauty. He commanded that the birds be caught. He tied them to a basket, sat in it, and began to fly up to heaven. In his hands, he held a spear. On the end of the spear a piece of meat dangled, just out of reach of the apparently carnivorous birds. They kept trying to get at the meat, and he kept on flying higher and higher. Alexander flew upward for two days. Finally, on the third day, a bird of paradise met him and spoke in a human voice. "You who yet know nothing earthly, how can you know the heavenly?"
After this, Alexander hurried to fly back to earth. This episode was so popular in Russia that it was etched on coins, used on princes' official seals, and was a popular decorative motif on jewelry. But the most striking example of its use is a carving of this episode on the Cathedral of St. Dimitry in Vladimir.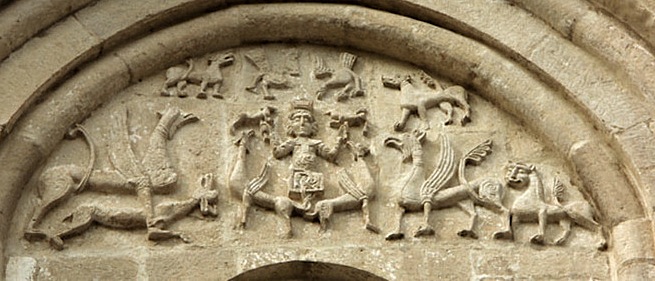 The Symbolism of Ascension
What can explain this extraordinary popularity? It's hard to say. Perhaps the more important question is this: how did a pagan hero so organically take to a Christian cultural context? It's enough to say that, famously, a certain metropolitan of Kiev had this episode painted on his miter! The story did change a bit to better fit the Christian context. Instead of birds, the Russian version had gryphons. From ancient times, gryphons were symbolic creatures, guides of soul from this world into the next.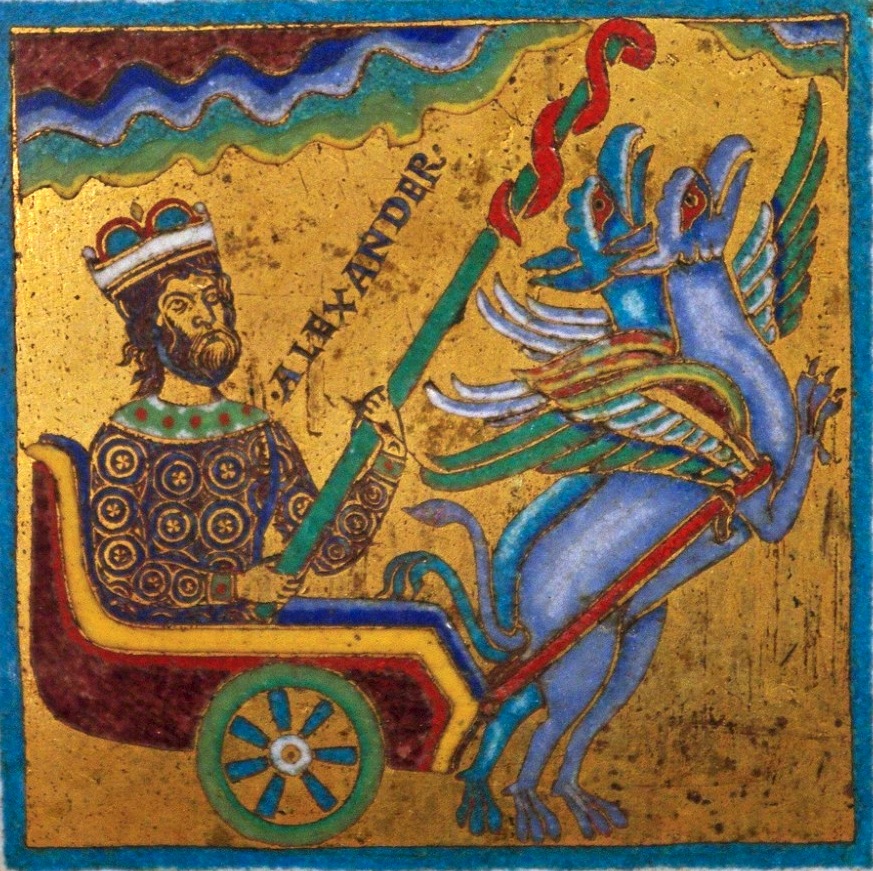 In Christian iconography, gryphons sometimes symbolized the two natures of Christ. They were also visual representations of spiritual transformation. They were also associated with the ascension of Christ. So their inclusion in this story makes Alexander's ascent a kind of "pagan prophecy" of Christ's ascension into heaven. Alexander was not the one to raise human nature to the divine, so he came back down and was humbled by the experience. It took the incarnation of God to take the fallen, dirty stuff of human beings and raise them up to the right hand of the Father in heaven.
The Idealized Monarch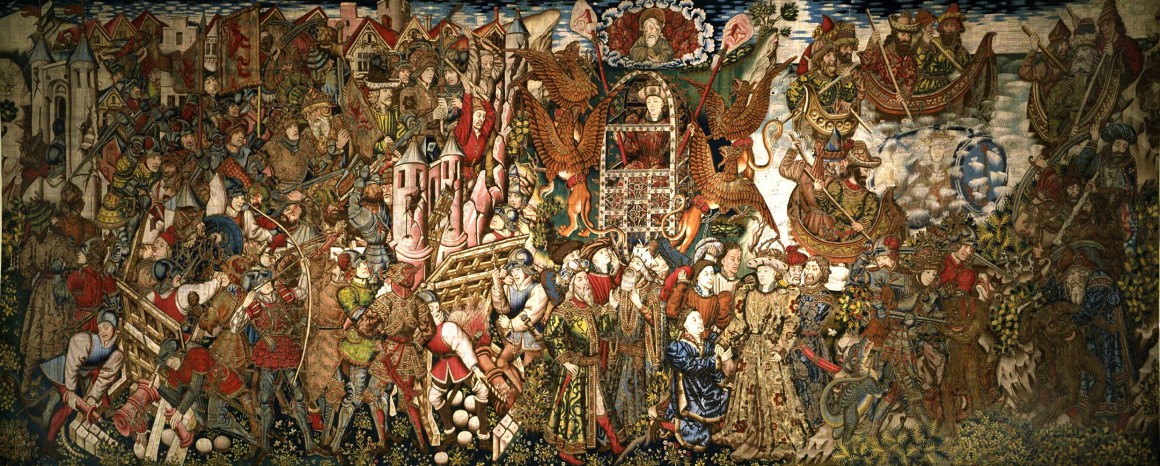 Others believe that the image of Alexander ascendant is an idealized imaged of the sacred nature of monarchy. It is true that in many societies, Alexander is the ideal king, and many Russian princes honored and idolized him. Few know that even so venerable a person as St. Alexander Nevsky had planned to build a monastery in Pereslavl-Zalesskii dedicated to his glorified namesake!
For more medieval legends about idealized kings, read about the legend of Prester John. The strange intermingling of the pagan and the Christian occurs a lot in Russian culture, as we see in the seven ways Russians celebrated the coming of Spring and the folk celebrations of Orthodox Bright Week. Read also about the strange historical episode of "fake pantheons": how historians made up gods for the Slavs that never existed.
If you enjoyed this post, be sure to sign up for my Readers' Group. You'll be the first to hear about my novels' release dates, giveaways, and contests. As a special thank you, I'll send you a free preview of my new novel, as well as a complete anthology of SFF short stories. Just tell me where to send them: