The Tsar's Menu: A Feast for the Whole World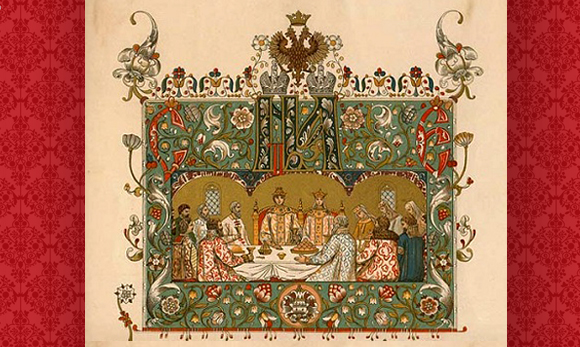 Have you ever noticed how ambivalent people are about wealth?
On the one hand, pretty much everybody wants to have more money than they do already. On the other hand, if a priest or a bishop drives up to church in anything more luxurious than an old Toyota, then boy does the snark come in bucketfulls!
Maybe it's understandable. I imagine it's hard to find that delicate balance between rich and ostentatious (not that I would know, of course). Amid the Donald Trumps of this world, it's certainly hard to find anyone being simultaneously rich, generous, and humble.
So when I look at the coronation menu of Nicholas II, I'm pleasantly surprised. Certainly there was a lot of food, but it's the simplicity of it that strikes one. Compared to even a mid-level restaurant nowadays, the food is not that flashy.
More importantly, the coronation feast included all levels of society. Truly, it was, as the fairy tales have it, a "feast for the whole world." So much of that last, sad period of Russian imperial history is fascinating and poignant and beautiful. No surprise, perhaps, that so much of the Revolution and its after-effects make it into my novels, even if only on the level of atmosphere.
Here's my translation of a Russian article on this momentous occasion: (click the link for the Russian original)
Seven thousand guests were invited to Moscow for the coronation banquet commemorating the coronation of Nicholas II. There were princes and lords, emirs and ambassadors from all over the world. But one of the halls was filled with common people, many of whose ancestors had helped the ruling monarchy in memorable ways.
The most honored among these were the descendants of Ivan Susanin, the half-legendary peasant who sacrificed his life to save Russia in the most critical moment of the Polish invasion of the early 17th century. Thanks to him, Michael Romanov, the first of the dynasty, was saved from Polish assassins.
Every guest was given a scroll with menus designed by some of Russia's best artists. True works of art: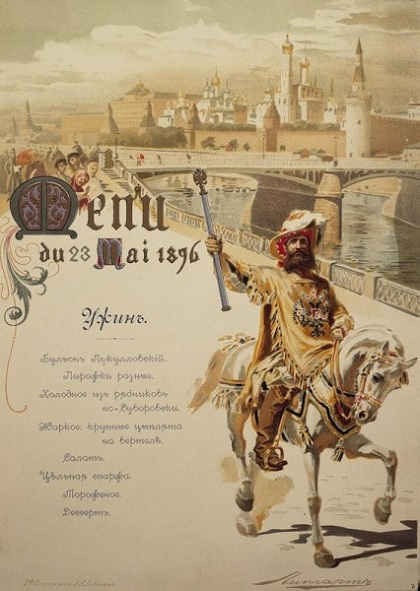 Dinner on May 23, 1896:
Lukullovski Soup (I couldn't find a recipe of this, so I don't know what it is)
Various piroshky (Russian pasties)
Grouse a la Suvorov
Grilled game hens
Salad
Whole asparagus
Ice Cream
Dessert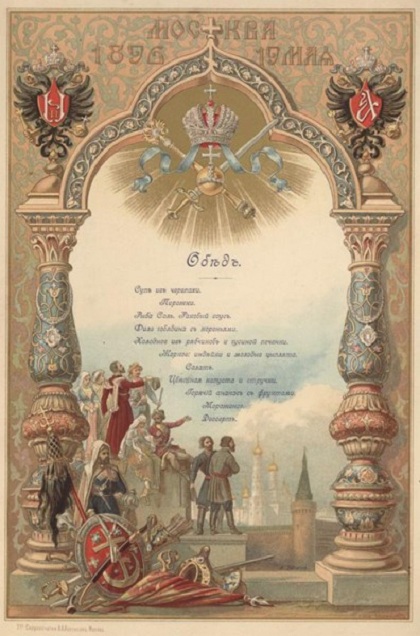 Dinner on May 19, 1896 
Turtle Soup
Salted fish
Fillet of beef with root vegetables
Cold grouse and pate
Turkey and game hens
Cauliflower and green beans
Hot pineapple with fruits
Ice cream
Dessert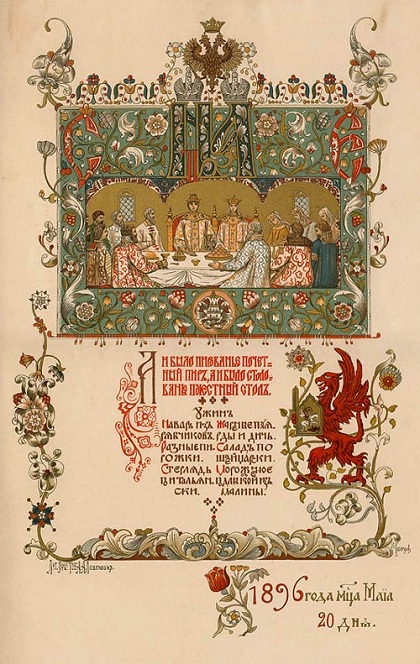 Dinner on May 20, 1896
Grouse pudding
Various piroshky
Sterlet in Italian style (a kind of sturgeon)
Chicken and game
Swiss Salad
Ice cream with raspberry sauce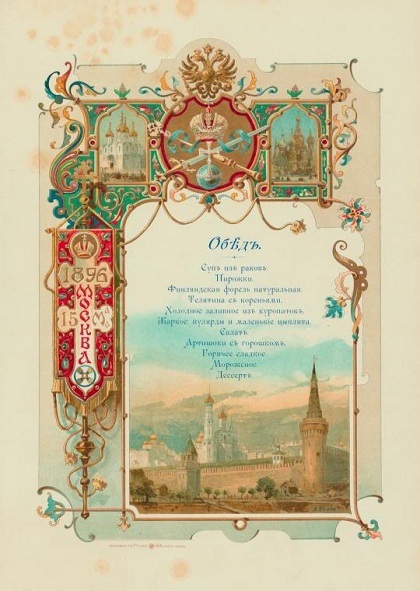 Lunch on May 15, 1896
Lobster soup
Piroshky
Wild Finnish trout
Veal
Cold quail aspic
Hot chicken
Salad
Artichokes
Hot sweets
Ice cream
Dessert
If you enjoyed this post, be sure to sign up for my Readers' Group. You'll receive email updates of new blog posts and invitations to free giveaways and contests. When my novel gets a release date, you'll also get a chance to join my street team. That means you'll receive a free advance reader copy of my novel in return for an honest review on Amazon or Goodreads.
You might also enjoy: