The Obelisk Gate by N. K. Jemisin
My rating: 4 of 5 stars
I accidentally discovered N.K. Jemisin about a year ago. It's actually kind of an odd story. I had seen her popping up on my Goodreads feed over and over again, and something about her imagined worlds intrigued me. When my own novel got picked up by an agent, he asked me to come up with some comparable titles to my own, and he stressed that they should be "award winners or nominees".
For some reason, that made me think of N.K. Jemisin, even though she hadn't won anything at that point, I don't think. But I happened to read the blurb for her excellent novel The Killing Moon (still my favorite of hers), and the philosophical-fantasy feel of it felt exactly like the kind of thing I like to write.
So I read it, and I got hooked. Then she did win her Hugo for the Fifth Season, book 1 in this series. I liked The Fifth Season, but I still can't really recommend it to my friends. This new book I wholeheartedly do recommend to everyone.
What really worked in the first novel is Jemisin's innovative approach to narration and point of view. The surprising connection between her three point of view characters revealed in the end of The Fifth Season really shocked and surprised me, which doesn't happen often these days. It was a tall order to expect the same kind of innovation in book 2 when the secret had, so to speak, already been revealed.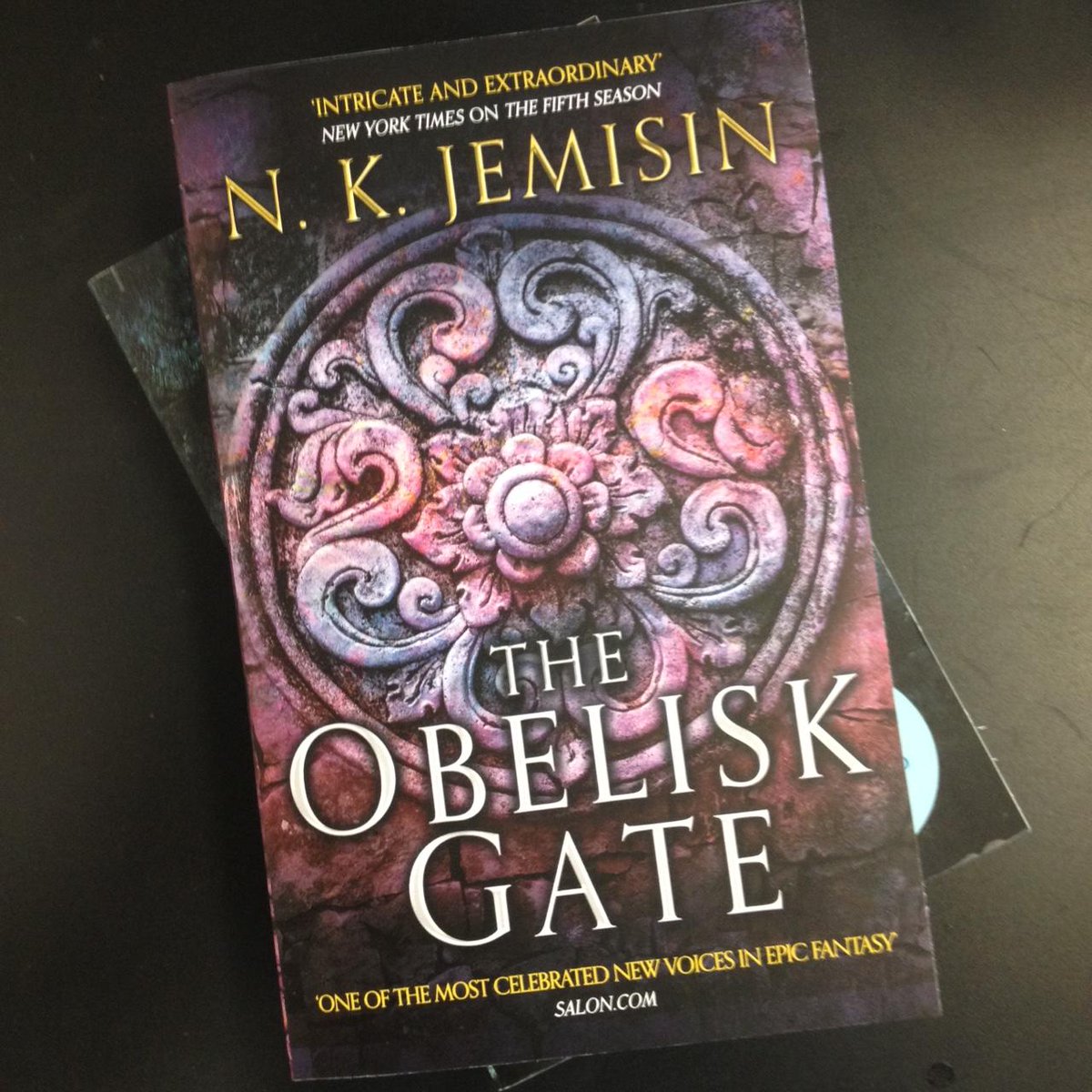 But Jemisin manages it beautifully. It turns out there's yet another point of view character who has been narrating everything behind the scenes, and the great thing is that we have no idea whether or not we can even believe him (or her?). I know I'm being cryptic, but basically, you should know that Jemisin is an artist, and she consistently keeps you guessing.
What about the story? It doesn't have the forward momentum of the first book. It's more introspective, which I find to be a good thing. There are a lot of revelations in this book. A lot of explanations of why the world is the way it is. But, there's still plenty to be discovered. Jemisin manages a good balance between revelation and mystery.
So why is it not 5 stars? The ending. The climax itself is powerful and beautifully written. It's chilling and fast-paced, and I couldn't stop reading it. The problem is that there's a clear set-up here. The main character and the daughter she's been searching for are explicitly placed at odds with each other. Then, in the end, it is suggested that perhaps they are actually working toward the same goal after all. Except, can we really trust anyone to reveal their true intentions about anything?
I expected there to be a cleaner, more satisfying set-up. It's a powerful story when a mother moves heaven and earth to find and save her daughter, but her daughter is actually more powerful than her mother and doesn't need her. Not only that, but she has even come to hate her. It's the kind of conflict that makes for great storytelling. So why, in the end, did Jemisin undermine that conflict? I don't get it.
But will I read the last book in the series? Oh, yeah!
If you enjoyed this review, be sure to sign up for my Readers' Group. You'll receive email updates of new blog posts, book reviews, and invitations to free giveaways and contests. When my novel gets a release date, you'll also get a chance to join my street team. That means you'll receive a free advance reader copy of my novel in return for an honest review on Amazon or Goodreads.
Some other reviews you might also enjoy: