The Scourge of Muirwood by Jeff Wheeler
My rating: 4 of 5 stars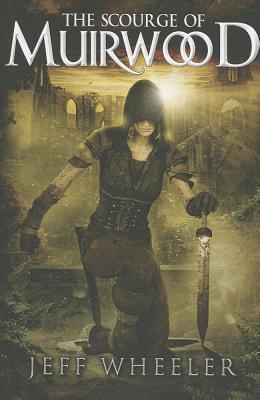 I think we're living in an interesting moment for the fantasy genre. The genre as well know it really came of age not so much with Tolkien as with Terry Brooks, who took Tolkien's medieval European world and made it more accessible and less "epically epic." From there, fantasy went through a phase that was called "Tolkienesque" but should be called "Brooksesque." You know what I mean. Books with elves and dwarves and goblins, oh my. Objects of power. Great, terrible, dark lords. Bearded wizards. And so on.
That got old, and we got the opposite extreme. Grimdark, or "anti-hero fantasy," became the new, hot thing. Nihilistic, dark, violent, and crude–it's the antithesis of the "Brookseseque" fantasy that came before it. Some of it is actually quite good (Game of Thrones and the Traitor Son series come to mind), but it's definitely not for the faint of heart. And it has alienated a whole host of readers who want their fantasy more Ursula LeGuin, less Joe Abercrombie.
Now, it may be that grimdark has had its day. Sure, there are plenty of new grimdarks coming out every five minutes. But they tend to leave less and less of an impression on the collective imagination. Has the time come for a push-back of cleaner, more traditional fantasy?
Jeff Wheeler certainly thinks so. This series is the first of his that I've read. As I said in my review of The Wretched of Muirwood, this is "early" Jeff Wheeler, and you can tell he's really just getting started in developing his own distinct style. The first book, while decent, is pretty formulaic.
It's in Scourge that he really catches his stride. Yes, it's clean, but the sense of danger hanging over the protagonist (something never really present in book 1) is palpable and intense. That's hard to do when fantasy readers have come to expect the hero's head on a pike in the middle of book 1.
What I really liked about this book is that the disaster that hangs over the heads of all the characters is not "fixed" with a sleight of hand, as is the temptation for many writers of "clean fantasy." There is real danger, real excitement, and the choices of characters have real, and sometimes global, ramifications. That's really what makes good fantasy good.
This series is billed as a "YA romance". Honestly, I couldn't care less about YA romance. I used to love it (as a teenager), but I find it a bit silly now. Still, I recognize that Jeff Wheeler has written it about as well as can be. I never cringed, even if I did roll my eyes once or twice.
Ultimately, it's not the romance that makes this a good story. Simply, it's a rollicking good tale of good vs. evil, where the evil is really evil, and the good have to battle the evil within themselves if they even have a chance against the big evil outside. And through it all, there's no gratuitous violence or sex. And I found that refreshing after so much grimdark.
I will definitely be trying out Jeff Wheeler's new series at some point soon. Let's hope that what the trend of "clean fantasy" that he started will develop and not become puritanical in its requirements. I, for one, will always appreciate a good traditional tale well told. This is certainly one of them.
A little update for my regular readers. My family and I are in the middle of a move back from Belarus to the states. As soon as jet lag wears off, I'll be more regular about my usual Russian traditions/history/folk legends posts. Thanks for reading! In the meantime, do join my Readers' Group if you want to read the first two chapters of my first novel, The Song of the Sirin, available in all online retailers on July 1, 2017.