Something a little less serious this week for your reading pleasure. I found a rather absurd little article about the historical origins of a few Russian insults. Not quite swear words, but almost. So don't be scandalized. Instead, enjoy this exclusive (and not too serious) look into the incomprehensible Russian psyche. (Here's the original Russian article).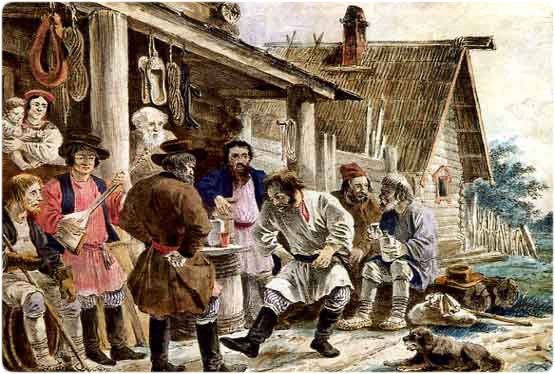 What do the most popular Russian insults actually mean?
You may have noticed that Russians can be quite sharp-tongued. So, how did some of the Russian language's most recognizable insults actually become "bad words?"
Idiot (Дурак, durak)
Probably the most widespread insult in Russian (if we don't count actual swearing). That being said, "idiots" appeared in Russia pretty recently. It only really appeared in the Russian lexicon in the second half of the 17th century. Interestingly (and perhaps typically), it has a religious history.
When the religious reforms of Patriarch Nikon (a subject for a later post, probably) led to a schism in the Russian church, the leader of the schismatics, Protopop Avvakum, made it his life's work to hunt down "the devil's wisdom." By this he meant all rhetors, philosophers, logicians, and the like. He was the first to call all followers of this particular devil "duraki" (idiots). After this, the Old Believers used this word to mean all those who supported the liturgical reforms.
Interestingly, Avvakum found this word in the rich culture of jesters and tumblers. It's likely that the word "durak" was the name of a troupe of jesters. Some linguists believe that the word comes from the Indo-european "dur" (meaning "to bite" or "to sting"). If so, then a "durak" is someone who's been "bitten." Possibly, the title could have come from a hazing ritual of new jesters. Some historical records suggest that new jesters had to survive a snakebite to be initiated into the world of fools.
Swine (Сволочь, svoloch')
Actually, the English equivalent is probably not quite appropriate for my blog, but swine is the literal translation. The word comes from the verb "voloch'" which used to mean "to roll up garbage somewhere in the corner." Later, it began to indicate homeless bums, then later all useless people who mooched off others.
Scumbag (Подлец, podlets)
Russians borrowed this insult from Lithuania. Lithuanians used to call people of very low social status "podlye." As late as the 18th century in Russia, "podlye liudy" was an official term in government documents that meant "irregular city dwellers." In other words, these are people that don't belong to any artisan guild or to the official list of citizens. Most often, these were slaves or migrant workers from the countryside. Only after the 18th century did the more insulting usage become common.
Lowlife (Подонок, podonok)
This word (in its plural form) calmly existed in the Russian language for centuries. It had nothing to do with people. Rather, it meant the leftover liquid at the bottom of a vessel of any kind. But in the 19th century, it began to indicate those denizens of taverns that liked to walk from table to table drinking the dregs of other people's shot glasses. Not ok.
Blackguard (Мерзавец, merzavets)
This one's a mystery. No one really knows where it came from. Most linguists agree that is probably is related to "moroz" (freeze). But that doesn't explain the insulting meaning, which has nothing to do with coldness. Some think that "merzavtsy" were criminals who were put to death by being drowned under the ice. In old Rus, anyone who died this way was believed to be cursed to wander the earth as a ghost or even a vampire. But that's still just a guess.
Trash (Дрянь, drian')
This probably comes from the word "sodrat'", that is, to "tear off." Something "torn off," like a bit of bark, animal skin, etc. Then, linguists believe, it came to mean anything that has no real value. There are, however, some exotic theories that say the word has something to do with the medieval torture method of flaying the skin off a living man. In other words, people who deserve that kind of torture are "drian'".
Bunch of morons, like "sheeple" (Быдло, bydlo)
This one's simple. "Bydlo" is a Polish word meaning "cattle." Historically, it was used by Polish nobility both to indicate their animals and the workers who slaved for them. That bad habit got passed to Russian nobles as well, and it then descended into the middle classes in the cities. Interestingly, in Czech, "bydlo" means "home." So if you're ever the unfortunate recipient of this insult, just pretend to be Czech, and you'll be fine.
Just a few more weeks until my first novel, The Song of the Sirin, goes on sale. If you'd like to sample the first few chapters, sign up for my Readers' Group, and I'll send you those for free.