Is it me, or do "reading is really really good for you" stories keep showing up again and again in the news? Check out the newest one: "Reading novels may prolong your life!" No joke. Of course, the quality of that reading life is important, at least to me. If reading novels puts you in the "shoes" of the protagonist in ways that mimic reality, then I'd better not waste my time with the bad ones, you know?
I'm always on the hunt for a fantasy series that not only engages my emotions, but makes me think a little differently about the "big questions." Sadly, you don't find many of those. But there are a few writers who consistently write books that surprise me as a reader (not easy to do, by the way).
One of these writers is Robert Jackson Bennet. Not only does he have a very writerly name, but his "Divine Cities" series is not your typical fantasy. The first book, City of Stairs, introduces us to a fascinating alternate world set in a gaslit, early-automobile age. The worldbuilding in that novel is fascinating, though it had its drawbacks. I reviewed it on Goodreads a few years ago, and you can read it here. 
I was also surprised by the second one, City of Blades. But not in a good way. Rarely have I gone from liking a book to loathing its sequel. But there you go, it does happen.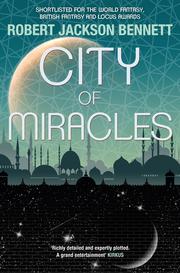 So you may have thought that I would ignore the third book in the series, City of Miracles. The thing is, RJB writes great characters who just leap off the page. They stay with you. They become fully fledged beings, like actual friends. I couldn't stop myself. I had to see if he would fix the problems that he had created in book 2.
I'm so glad I stuck with him.
City of Miracles is an exciting, sometimes pulse-pouding thriller that keeps the pages turning. I mean, there's a sequence on a funicular in the middle of the (fictional) Himalayas that is better than some action movies. It has an effective bad guy with a very believable motivation for his "badness." And Sigrud, the hulking Scandinavian-type berserker, is the main character. What's not to love?
But that's all to be expected from RJB. What threw me for a loop was how this was also a contemplative story about love, loss, and the power of memory. It asks difficult questions about power and love and forgiveness. And it, unlike the other books in the series, does engage the "difficult questions" about life.
Now, to be honest, I don't share RJB's worldview. I think his answers to the "why?" of the universe are disappointing and depressing. But that's his prerogative. He follows through on his worldview to its logical conclusion, and he's able to do it well. In the final analysis, his book is a thing of beauty. Even if I can't agree with him about the ultimate questions of life and death, I can appreciate his well-crafted jewel of a book.
And I can wholeheartedly recommend it. You don't really need to read the other books in the series to appreciate this one. (Note: the book has plenty of violence and adult themes, so not for the faint of heart).