Last week, we delved into the early life and work of Mikhail Nesterov , an artist who was, in many ways, a bridge. He bridged the 19th and 20th centuries, Tsarist and Soviet Russia, the traditional and the modern. This week, we continue exploring his art, in particular his attempts to portray explicitly biblical and iconographic topics.
Two Passions
Nesterov's relationship with his parents was always full of trust. However, one time he found himself forced to go against the will of his parents. He fell in love. His chosen bride, a certain Maria Ivanovna Martynovskaia, was also from Ufa, but from a poor family.
In 1885, Nesterov married her in Moscow. His parents did not bless the union, and they were not present at the wedding. The love between Nesterov and his bride was intense and reciprocated. A year after their wedding, they had a baby girl. Nesterov was never as happy as on that day. However, only a day after giving birth, his wife Maria died of complications. Nesterov, destroyed by his grief, took to drawing Masha endlessly, resurrecting her in his memory. He remained for entire days at length at the cemetery. Three of his most famous paintings– The Final Resurrection, Christ's Bride, and The Princess are all dedicated to the memory of his wife.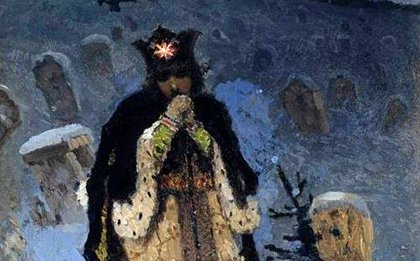 After the tragedy, Nesterov's art took a decided turn toward the more profound and effective. His pain never really disappeared, and it is present in nearly all of his subsequent female portraits. Thus, for example, we have the silent landscapes in In the Hills and Winter in the Monastery, where the girls are in heavy head coverings done in the "Old Style." These "Nesterovian" young women seem not to notice the world around them. Instead, they sorrow over something deep, seeming to be somewhere else in their thoughts. But where? In the future? The past? Neither. Rather, in that place where their true, eternal joy will reside.
Read the rest of this article on The Storyteller.