Recently, I've been having trouble with a main character's journey in my second novel. He literally wasn't going anywhere fast. It turns out that his emotional state is so low that he needs to be forcibly deprived of his freedom, so that he can start actually doing something with himself. But I needed to find someone authentic to the history of early Rus to do the actual "forcible deprivation". Voila! Ushkuiniki, the last Russian pirates! (no, not Cossacks, they're different).
Russian Vikings?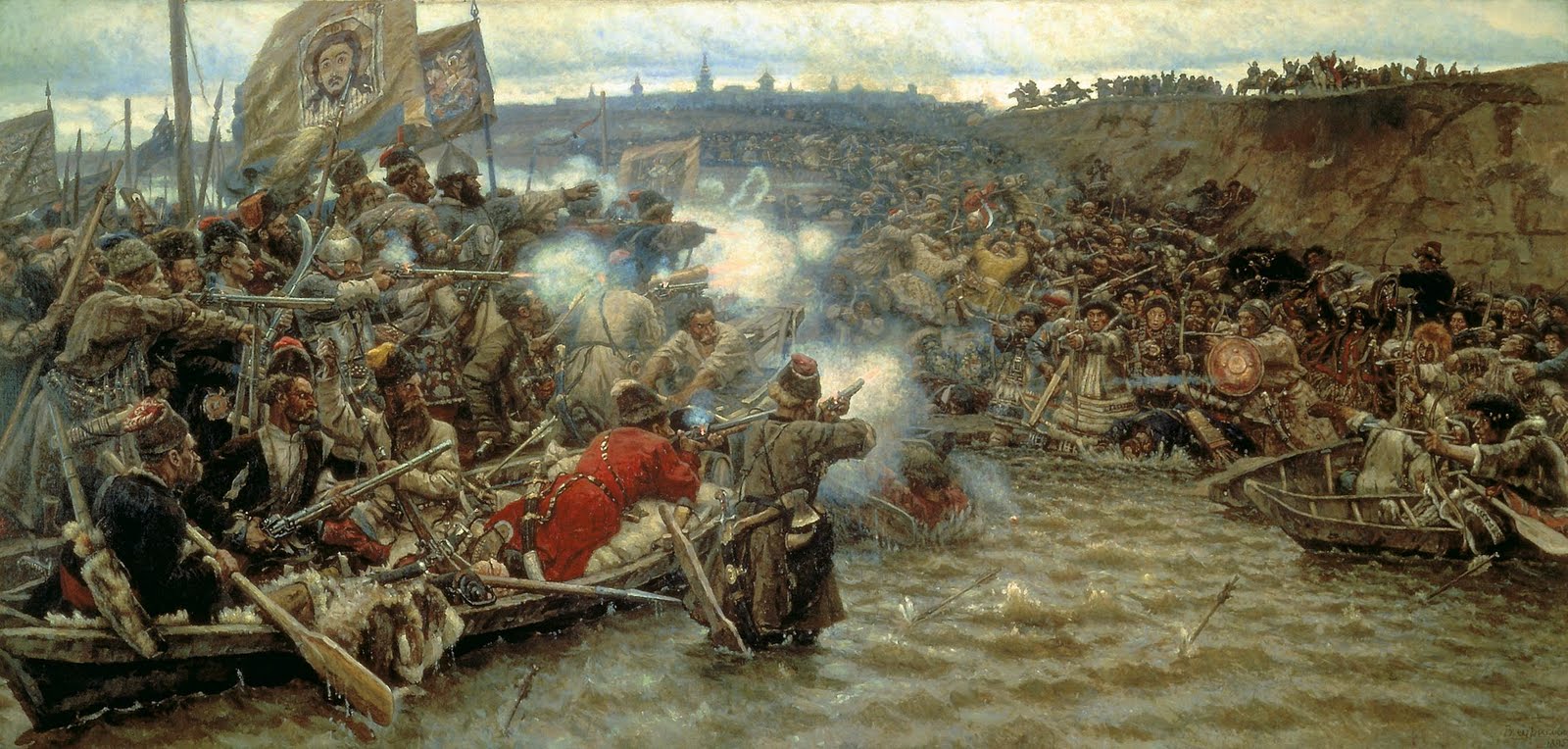 Of all the cities of medieval Russia, Novgorod was one of the more volatile, not least because of its "semi-democratic" system of government. It's possible that the lack of a strong central authority caused the rise of an independent society of free pirates, called "Ushkuiniki." Their name (from the Russian "uzkii," thin) probably came from their boats. They were thin and very fast. Though capable of seating around thirty raiders, they were easy to portage. The figurehead carved on the boats was often a polar bear.
They were the direct descendants of Vikings, both in terms of their ethnicity and their methods. The raiders worked in small, well-armed, and very well-trained military bands (druzhyni). Each had a single boat and would independently raid various cities, some at great distances from their "home base." Some went as far as the Arctic Sea and the borders of Mongol-controled China.
Although there were Ushkuiniki all over the Russian north, they were especially prevalent around Novgorod (not least because of its importance as a trading post). Novgorod, unlike other cities, tolerated them for a time, even trying to channel the energy of the "young men," as they were laughingly called, to increase the influence of Novgorod over the other independent cities.
Origins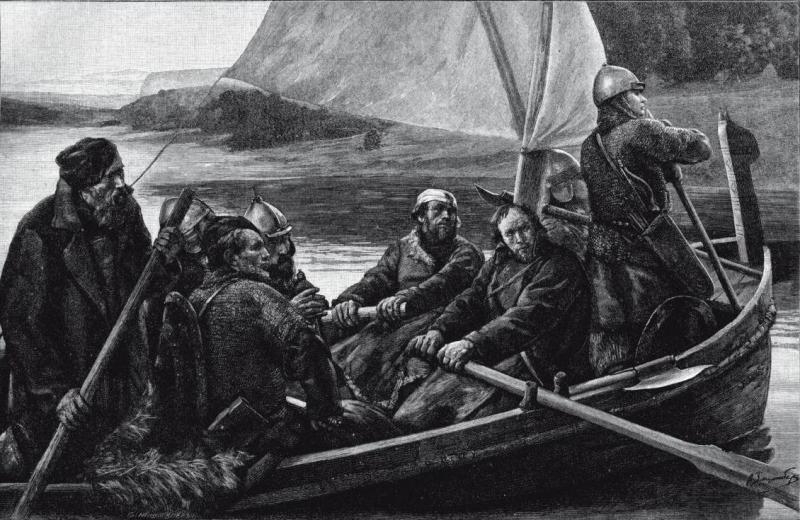 Ushkuiniki may have begun raiding Bulgaria, Lithuania, and Scandinavia as early as the 11th century. They made their money primarily in the fur trade, the real money-maker of that time. They not only stole furs, but they controlled the riverways along the Kama and the Volga, raiding up and down along important trading posts. Some of them were strong enough to overcome entire cities, as we see from the overrunning of Koksharov in 1181.
They were thus important political players in the region as well. After all, the Russian fur trade extended as far as England through Novgorod. Novgorod, seeking to control as much of the trade as possible, was more than willing to use the raiders to further its political goals, even if they never officially sanctioned them. It was a mutually beneficial "arrangement".
Arms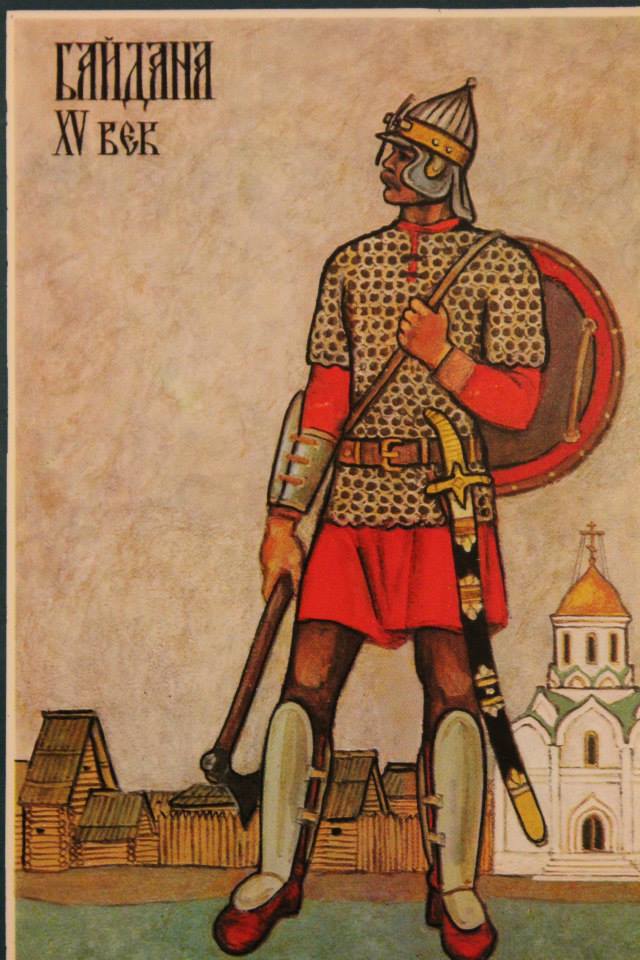 Ushkuiniki were extremely well armed and provisioned. These professional warriors wore large-ring chain mail or scale mail that was very effective at warding off wide arrowheads. Each raider had his own sword and spear, and they used both longbows and crossbows effectively.
Politics
The Ushkuiniki were savvy political players as well. They often acted as mercenaries in the many internecine wars of the early Rus period. After the invasion of the Mongols, they perceived how the Mongol influence would soon wane, and they were very effective at determining the more politically and militarily strong party in any conflict, eagerly hiring themselves out to that party.
Here's an example. In 1360, they took a city in Bulgaria, and the annoyed Mongols asked the local Russian princes to take care of the raider problem. Some of the local princes managed to capture a few raiders in Kostroma and send them to the Golden Horde for execution. Kostroma lived to regret its involvement.
When Moscow and Tver were involved in their death struggle in the 14th century, Prokop, an Ushkuinik leader, was given carte blanch by the Moscow authorities, in return for his help in putting down Tver. Prokop began by avenging his fellow raider. He attacked Kostroma, destroying a 5,000-man army with his 1,000 strong. He took all the city's valuables and burned the city to the ground, taking the women and children and selling them into slavery.
Then Prokop's bands rampaged up and the down the Volga, going as far as Astrakhan, where they were only defeated by the favored "Eastern" method. That is, they were fed and given drink by "friends," then stabbed in their beds as they slept.
The Last Raid of the Ushkuiniki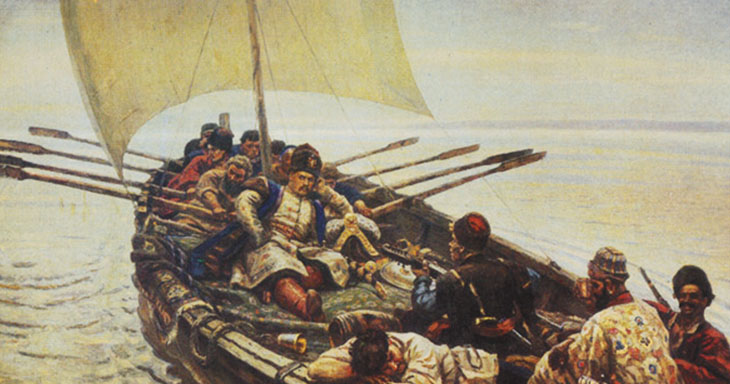 The last raid of these Russian Vikings was a successful attack of 250 narrow boats on various Tatar strongholds along the Volga, led by a half-legendary warrior named Anfal Nikitin. He was a Novgorod nobleman who had become a vassal of Moscow and tried to take Novgorod for himself. He lost, and began to gather dispossessed raiders to himself, even establishing a city for them.
We don't know what happened to Anfal, but he was probably killed by one of his own.
After his death, the Ushkuiniki began to fade, though they did take part as mercenaries in some famous battles. They continued to be a thorn in the side of the legitimate authorities until, in 1489, Ivan III permanently disbanded them. The remaining bands scattered, eventually falling into obscurity.
Interestingly, their leaders were called "Vatamans," which is a precursor to the Cossack leader's title of "Ataman," and may be etymologically related to the English "waterman."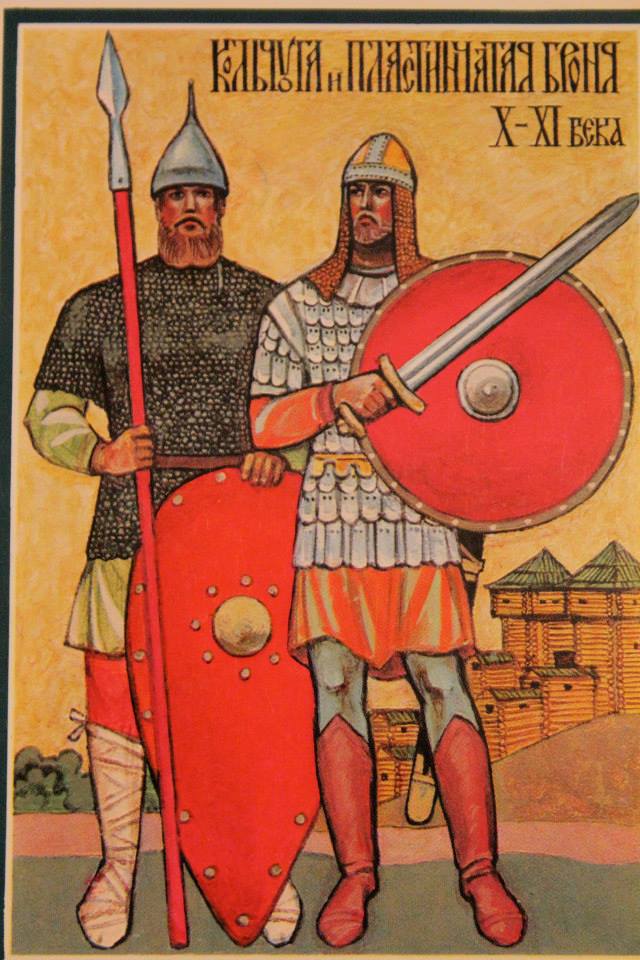 If you enjoyed this post, be sure to sign up for my Readers' Group. You'll receive email updates of new blog posts and invitations to free giveaways and contest. Just sign up below: