I've had a wonderful few weeks, both in terms of work and rest. My kids are growing up fast and beautiful, my work is rewarding, and I had a lovely time with my sister and her husband on a kind of semi-vacation.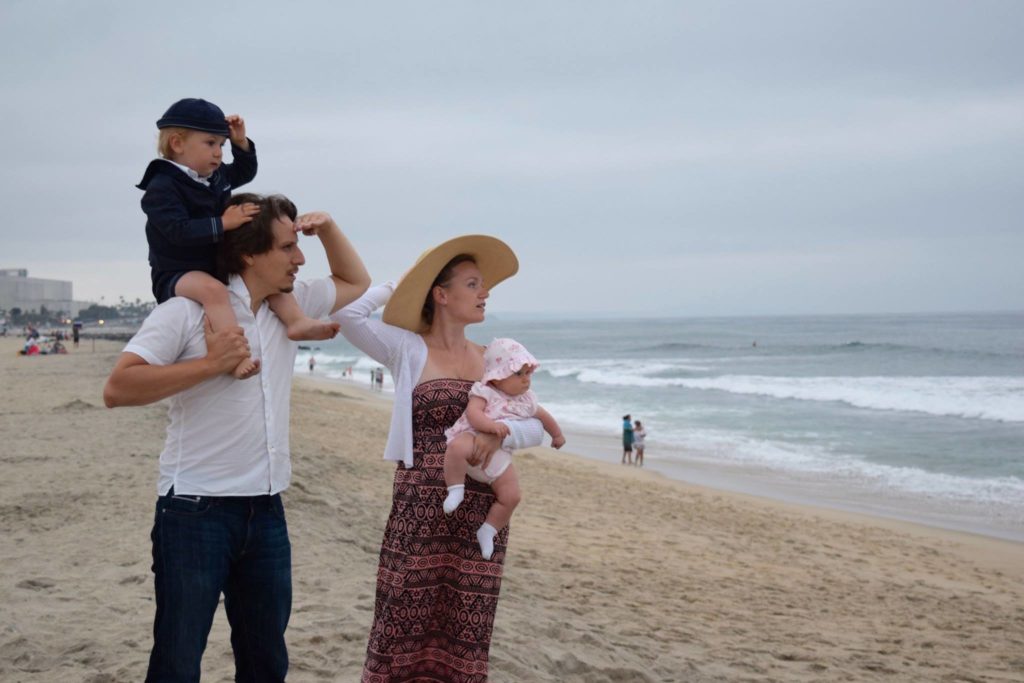 We grew up in a conventional family. As social media seems to be highlighting an ever increasing chaos all over the world, I've been thinking of how conventions of behavior have almost completely disappeared. And it occurred to me how much easier it would be for people if there were conventions of behavior they could agree on. It would fix a lot of problems people have in relating to each other in romance, in conflict, in business, in life in general.
People in my fantasy novels don't act like freewheeling modern people. They live in regimented, rule-bound worlds. And you know what? They like it. Today, I'd like to share my translation of a Russian post on the sometimes unexpected rules of behavior in old Russia.
5 Unusual Codes of Behavior in Old Russia (click for the original Russian article)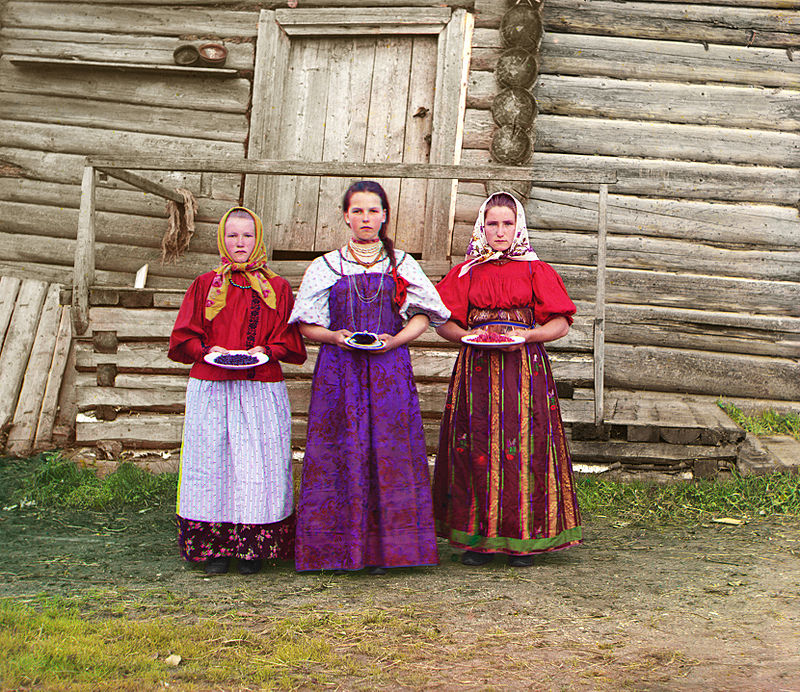 Why can't you hold hands while dancing? What does it mean when you kiss someone in the shoulder? In front of what sort of a person should you bow to the ground? Or when should you just bow to the waist?
The Handshake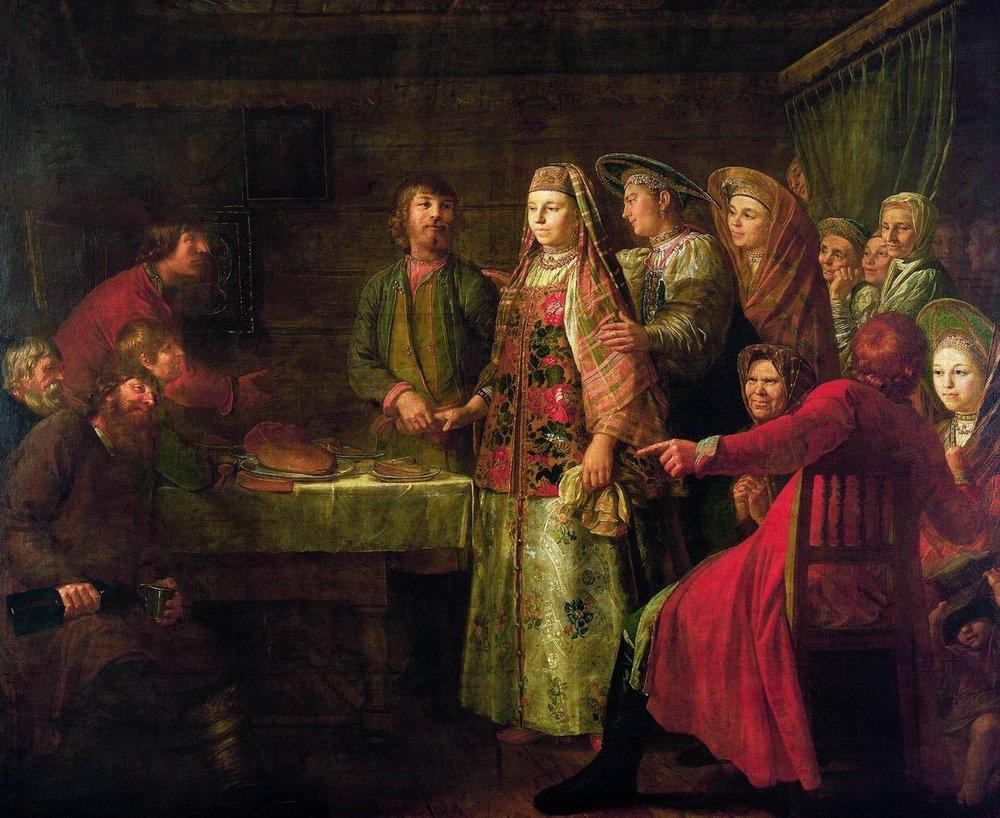 Shaking hands is so normal to us, we don't even think about it. But we forget that it's first of all a touch of skin on skin. It's a mutual "letting in" into an intimate space. In old Rus, people believed a touch could heal or curse. A touch could spark sexual attraction.
So, in 16th century Russia, you were not allowed to hold hands while doing line dances in the village. It was considered "a means to sensuality". The gesture of a handshake also had a second meaning in village life. It was a ritual "seal" on an agreement. In my blog post about marriage, I mentioned that the betrothal agreement between families was literally called a "handshake," or "hand slap."
In North Russia, this ritual agreement took on cultic significance. A shepherd had to go into the woods every spring to make a deal with the leshy, the spirit of the forest. The deal was for the number of cows or sheep that would be dedicated to the leshy, which would guarantee an excellent pasture for the rest of the season. The shepherd had to shake the hand of the leshy. But touching evil spirits would inevitably lead to being cursed. So what to do?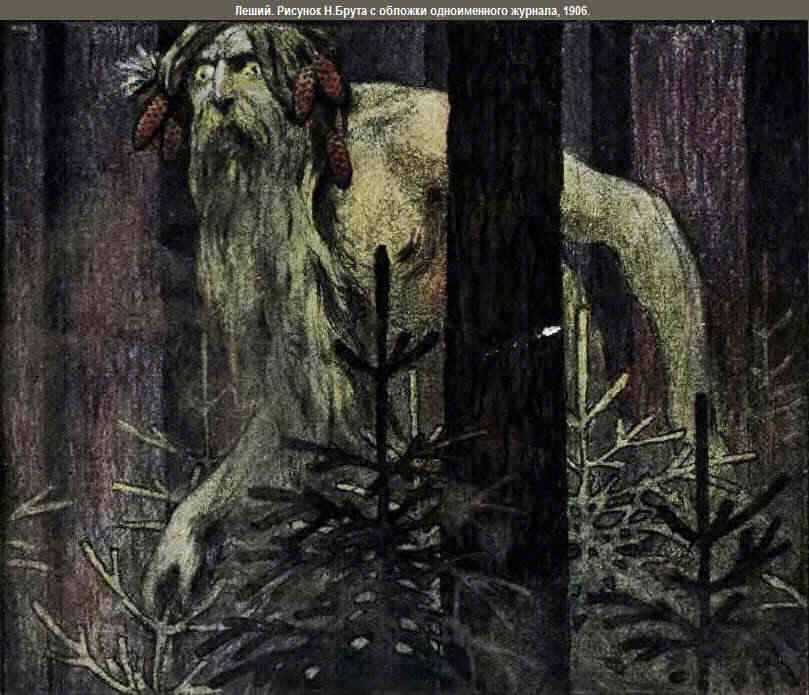 He would put on thick woolen gloves, and he would add a special added glove made of straw to his right hand. This was "added protection" against the impurity of evil spirits. Even the handshake during the engagement between married couples had to be done with gloved hands, or someone might curse the wellbeing of the future couple Shaking with ungloved hands was a sign of extreme trust, and so done very rarely.
The Kiss
Like the handshake, the kiss is a gesture with many possible meanings. A platonic, even ritual, kiss is a desire for health and wholeness. In Russian, the word for kiss has "tsel" as its root—the word for "whole." So the kiss is etymologically connected with the idea of prosperity and fullness. So, not surprisingly, it was most proper to greet a guest with a kiss in old Rus.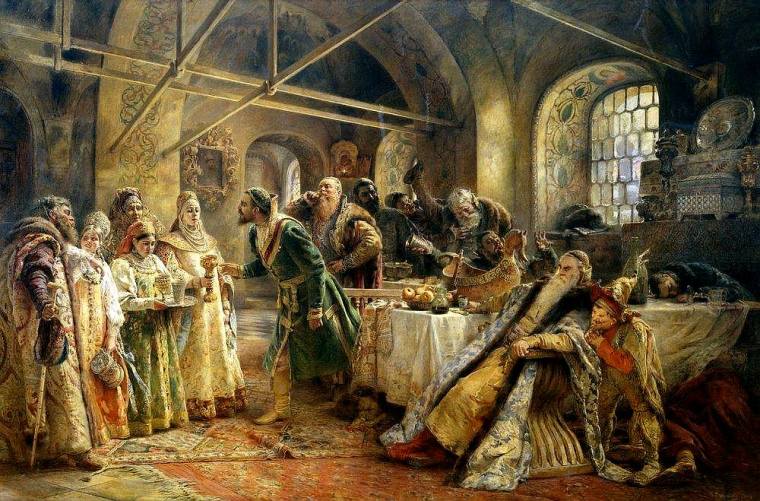 By the 17th century, there was even a complicated kissing ritual that often flabbergasted foreign visitors. It involved a mutual exchange of bows, the drinking of a common cup of wine, and the wife of the host kissing all guests on the mouth. This ritual kiss was performed both when entering and when leaving the house.
The parting kiss was a seal of mutual forgiveness of offences. The greeting kiss was similar to a kiss of honor, especially if you were visiting someone who had recently increased in social prestige. In Russia, those who were especially honored even had their hands kissed, or even their feet!
A kiss on the shoulder was customary for a subordinate when greeting a superior. The superior's proper response was a kiss on the head. You can still see this when lower clergy takes a blessing from a priest or a bishop, especially in Russia proper.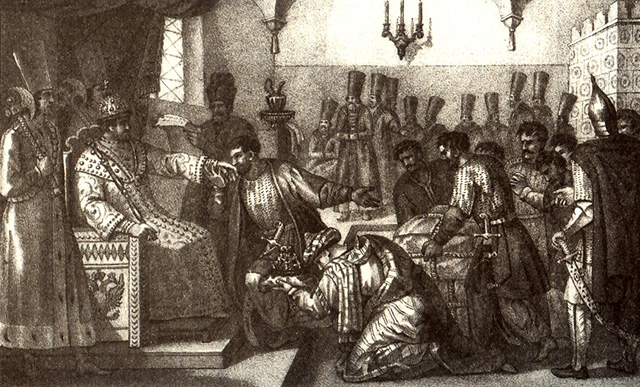 Kissing the monarch's hand was an action given extreme importance. Only Christian ambassadors were allowed this honor. Non-Christians, Turks, and Tatars were explicitly prohibited from kissing the Tsar's hand. The official granting of the hand to kiss was proclaimed aloud to the ambassadors as a special grace of the Tsar, and an especially honored boyar would hold the hand while the ambassadors kissed it.
The Bow
A bow of the head was exchanged as a simple greeting in Rus. It was also a fitting expression of gratitude. Among the peasants, it was customary to bow to the ground before a priest or a rich fellow peasant. This was called the "great rite". Bowing to the waist (the "small rite") was a greeting for an equal. You would bow thus when entering another hut. A wife would greet her husband thus in the morning. Women bowed to men, and men to women (though men were allowed to not answer a woman's bow).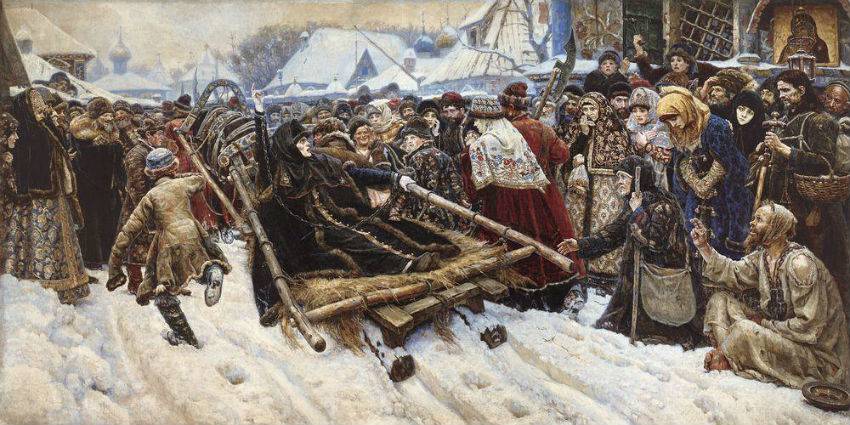 When you bowed your head, it had an important second meaning. You were, effectively, offering your life to the other person, to do with as they will. You were also willingly abasing yourself before your equal, offering him a higher status than yourself.
The Head Covering
Head coverings had some practical significance, but their symbolism was more important. The lack of a hat in a grown man was considered a sign of poverty. Social outcasts did not wear hats. This was because after marriage, men were not supposed to appear in public without a hat, just as a woman should never appear in public after marriage without a head covering. If a man ever had to take his hat off, it was only to show honor:
when he meets a superior
going to church
kissing an icon, etc.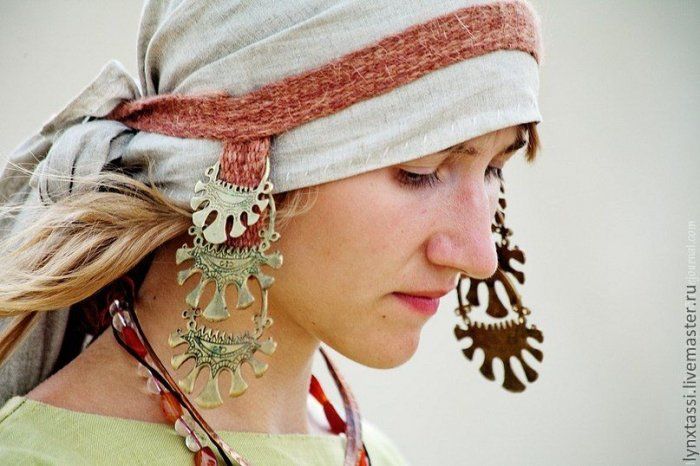 A woman, on the other hand, was never to take her head covering off, even in church. As I mentioned in my post on marriage rites, a woman covered her head as a sign of hiding her beauty for all except her husband. In some places, the groom even had to "buy" her "beauty" (i.e. her braid). To forcibly take off the head covering of a woman who is not your wife was the worst kind of insult.
Position
In a society that was built on hierarchy, the status of every person depended on his relation with those who were above him. In Russia, this social system was called "mestnichestvo," literally "placement." This placement governed the rules of everything from (table settings to service in the prince's court. The more honored the man, the closer his physical position would be to the Tsar or prince.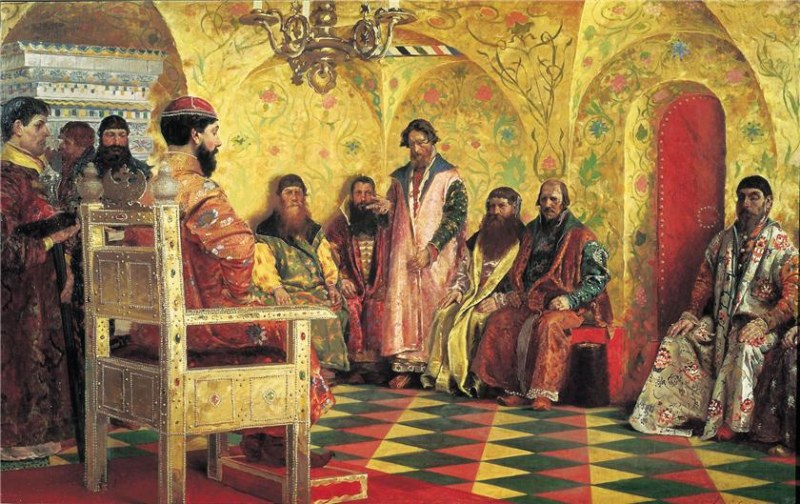 Arguing over "position" was also found in other social classes, even among the peasants. Or maybe it would better to say especially among the peasants. In fact, it was village life, with its ancient system of seating at official tables that gave rise to the social system of mestnichestvo among the nobles.
Connected with the proper standing or sitting position were the rules that governed who could sit in whose presence. Standing, socially speaking, was a sign of instability and ambiguity. A person of low social caste had to stand, while the privileged could sit. Thus, sitting, as a position of stability and lack of movement, was a sign of princely power. Sitting was connected with such ideals as happiness, fate, fortune. This is why:
any good host always tries to get his guest to sit down before anything else
no one should ever hurry to stand up from the dinner table
all Russians (still) sit down in silence "for the road" before leaving on a journey.
If you enjoyed this post, and would like to learn more about Russian history and traditions, be sure to sign up for my Readers' Group. You'll be the first to know about my novels' release dates, giveaways, and contests. As a special thank you, I'll send you a preview of my new novel as well as a few other free gifts. Just tell me where to send them: