If you're anything like me, you're always looking for that amazing book that knocks your socks off.  But the more your read, the harder it is to find something that amazes you while still providing that kind of comfortable feeling you have when you sit in front of a fire and sip mulled wine. You know what I mean?
Well, if you can wait two more weeks, you'll get all that and more.
October 25 is the release date for the one book that I'd actually stand in line all night for — the fourth book in the Traitor Son sequence. (My reviews of The Red Knight and The Fell Sword are here). It's titled The Plague of Swords (perhaps a subtle reference to a certain book in the Game of Thrones series?). I CAN'T WAIT to read it. Here's the cover: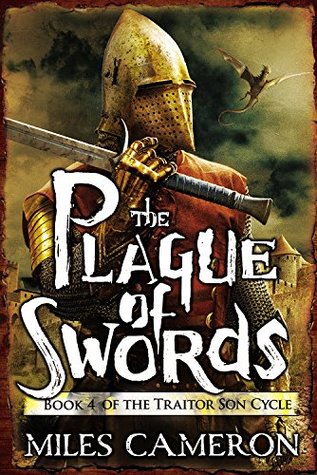 To get all of you as excited, I compiled a bullet point list of coolness from book 3, The Dread Wyrm:
This is a series that is invested in character for the long haul. In our age of constant self-distraction, finding an author willing to allow the slow and realistic development of character, theme, plot over the course of five books is rare.
Finding someone who also does the above beautifully is enough to shout it from the rooftops.
Um….there are both American Indians and knights in armor in this book. How is this possible, do you ask? This is why fantasy exists as a genre, I tell you!
This book has possibly the biggest dragon in the history of fantasy literature.
But wait, there's a second dragon. And yes. It's even bigger than the biggest dragon in the history of fantasy literature. See my review of A Natural History of Dragons to understand why this is so cool (if you didn't already know).
The battle scenes are so good that you feel the dirt under your fingernails, the sword in your hand, the cramping in your calves.
The bad guys are vile. You really want them to lose. Unlike a certain series of books I shall not name, here the bad guys actually get their comeuppance. And it's glorious!
You never really know what's going on in the main character's head until the last minute, and trying to figure out how he's planning to outwit his enemy is really, really fun.
Pageantry! This series doesn't pretend that the Middle Ages were filled with dirt, brown leather clothing, and a complete lack of color.
There are magic swords. Do I really need to say any more?
Do yourself a favor, and read this series.
Now, a short disclaimer. This series is definitely R rated (in all of the possible categories). But if you can handle it, there's really not much out there that's better in fantasy right now.
If you enjoyed this review, be sure to sign up for my Readers' Group. You'll receive email updates of new reviews, blog posts, and invitations to free giveaways and contests. When my own novel gets a release date, you'll also get a chance to join my street team. That means you'll receive a free advance reader copy of my novel in return for an honest review on Amazon or Goodreads.