Landmarks by Robert MacFarlane
My rating: 5 of 5 stars
Have any of you gotten into that Marie Kondo book about tidying up? My wife and I got into some of it, until Kondo committed the cardinal sin. She suggested that you should cut out passages from books you don't like and only keep the ones you like. That's right. She actually suggested that you maim a book.
Obviously, I didn't listen to any of that nonsense. That being said, I did like how Kondo suggested that some objects can give you a spark of joy. That idea became especially important this week, because my family and I started a new phase in our adventure. We're setting out for new landmarks, so to speak.
We moved to Belarus until next year.
One of the big issues with moving (as I'm sure you know) is to choose which books to take. I waffled nearly on every one. Except Landmarks by Robert MacFarlane.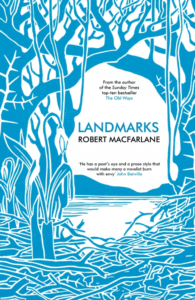 What a wonderful book. A rare book. One that will never get dusty, because I intend to peek into it again and again. This book is a single-handed attempt not only to introduce new readers to a whole genre of  "literature of the natural," but to encourage the reinvigoration of English, especially with respect to descriptions of nature. The best part of this book are the glossaries–short dictionaries of regional words (some baffling, but many more luminescent) that describe nature in ways that "normal" English certainly cannot.
Now, rather than just go on and on, I'll just post a few of the updates I put on Goodreads while I was reading this book:
"You know when you find a book that shifts your entire way of looking at the world a little bit? This is one of them."
"Can a person become a peregrine falcon? Apparently, some have tried."
"Macfarlane can make even parking lots sounds beautiful"
Now, as I start revising my recently completed new novel, The Garden in the Heart of the World, I'm pulling this book out again, because it always teaches me how to be sparing, yet vivid, in my descriptions of settings.
I recommend this book to anyone who needs a glimmer of the transcendent in their life. And it being just about early November, don't we all?
Did you like this post? Join my Readers' Group. You'll get updates from me by email every two weeks. Every once in a while, I'll be sending my Readers' Group excerpts from my new novel and other goodies.