You probably know some of the best first lines in literature.
"It was the best of times, it was the worst of times…" (A Tale of Two Cities)
"Call me Ishmael…" (Moby Dick)
"All happy families are alike; each unhappy family is unhappy in its own way." (Anna Karenina)
The arresting beginning is something every writer strives to achieve. Not only every writer, but every storyteller as well. Russian fairy tales in particular have an unusual way of grabbing the audience's attention. The storyteller begins nearly every story with a pre-story: a stream of nonsense that has nothing to do with the actual story he is about to tell.
Why, do you ask? Well, Ivan Ilyin, the great Russian philosopher and writer, has a long essay on the spiritual meaning of fairy tales that I have every intention of translating in full (maybe next week). In it, he explains that fairy tales in general, and the Russian versions in particular, are far from mere bed-time stories to entertain the kids. They are profound expressions of a nation's mythic consciousness.
To enter into that mythical space, the storyteller breaks all bonds with reality, disorienting the listeners, making them ready to feel the profound meaning of the story, the deeper reality that the plot only hints at.
So, without further ado, here are some of the strangest ways that Russian fairy tales begin.
The tease and the promise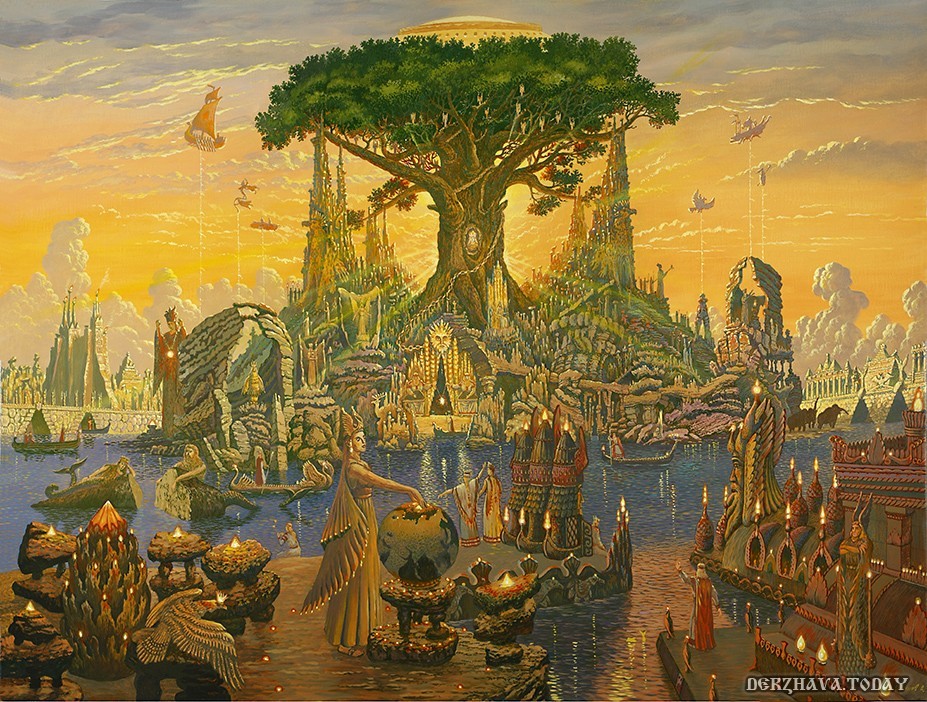 The story begins from the grey, from the brown, from the chestnut-colored horse. On the sea, on the ocean, on the island of Buyan—there stands a baked bull and a pounded onion. In the side of the bull, there's a sharpened knife. Now, the knife comes out…Would you like to eat?

This is still not the story, but only the pre-story. If anyone listens to my story, he will receive a sable and a marten coat, a beautiful wife, 100 rubles for his wedding, and fifty more for the party!" (from Afanasiev's Fairy Tales)
This means: get ready for what's coming, and don't dare interrupt. Then, you'll see it all for yourself.
The rhythmical dance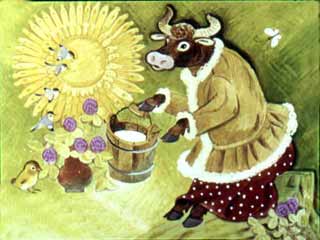 "Granny Alina, where did you go?

"To the new town."

"What's in the new town?"

"A duck in a skirt, a mallard in a kaftan, a cow in burlap, there's no better cow than she…"

But this is the pre-story; the story's still to come. Flax tow, flax tow, where do you fly? You sat on a shrub, you sat on a shrub, and you sang like a nightingale.

Our town, it's not like your town, there the flax tow sings like a nightingale.
In other words, it's time to reorder your perception of reality, to go a little bit insane, to get ready for anything, to not be amazed at anything. Then, you'll understand everything…
The indiscriminately pugnacious pre-story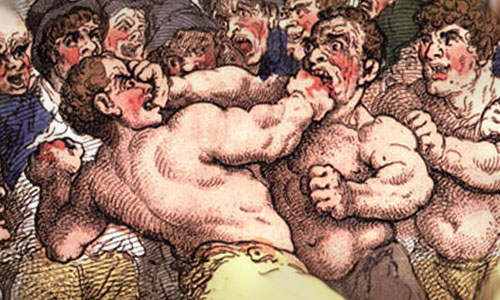 Once upon a time, there lived two peasants. One was Anton, the other—Agathon. "Listen, brother, said Anton. The winds of misfortune blow our way!" And Anton himself shook like a leaf.

"Well, what's the trouble?"

"The hail's coming, and all our wheat's gonna die!"

"What hail? It's just a rainstorm."

"No, hail!"

"No, rain!"

"I don't want to talk to a moron," said Anton, and punched his brother in the face. Neither hail, nor rain came, but the blood poured from their noses and ears.

But this is not the tale, this is only the pre-story. The story is yet to come…tomorrow, after lunch, when you've eaten some soft bread…
This means: here, watch. I'm going to mix up all the cards, to throw you into the middle of a stupid argument. After this, you'll be much more willing to believe the incredible events of my story.
The insinuating introduction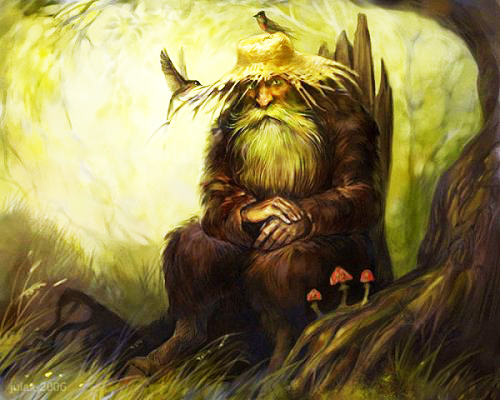 In that distant time when the world of God was filled with leshye, witches, and mermaids, when the rivers flowed with milk along berry-juice shores, and fried quails flew in the fields—in that time lived a king, his name was Pea, with his queen Anastasia the Beautiful…
This sort of pre-story takes the soul of the listener by the hand, like a child, and leads it to an ancient and wondrous world, almost by magical insinuation or chanting.
That's what fairy tales are like. They lead us in, freeing our imagination to take flight, feeding our souls to their fill. Then, the story leads us back, often finishing in the traditional image of a drunken feast:
And there I was, and I drank the mead and the beer. But it all flowed down my mustache, and not into my mouth!
That means that the story is over, and it's time to get sober from our momentary story-drunkenness. After all, we were not really drunk. All the liquor missed our mouths completely…
If you'd like to read more about Russian traditions and culture, make sure to sign up for my Readers' Group. You'll get updates from me by email every week or so. Every once in a while, I'll be sending my Readers' Group excerpts from my new novel and other free goodies.